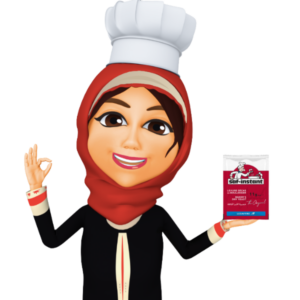 When the holy month of Ramadan rolls around, a variety of images, including Ramadan decorations, lanterns, dinners, and desserts like konafeh, qatayef, and baklava, some of the major foods with a long history, spring to mind.
The most iconic desserts of Ramadan have fascinating histories, which Mrs. Safa invites you to discover in this month's blog article.
Sweet history of Qatayef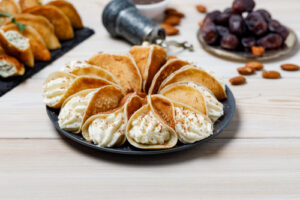 Some people think that the Fatimid Dynasty created the Qatayef. The Caliph at the time is reported to have had a craving for a dessert that would keep him satiated for a very long time. After that, the chefs of the Caliph then developed what we now know (and adore) as Qatayef.
The tiny snacks were so well-liked that poems were even written about them. While most of the population purchases their Qatayef from bakeries, some choose to make them at home.
An ancient cookie that ushers Eid; Maamoul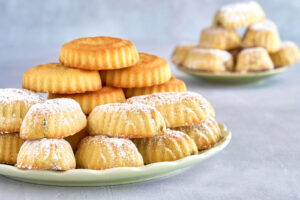 Maamoul cookies have a somewhat mysterious history, although it is well-known that they have been an important component in religious festivities for hundreds of years.
For ages, Maamoul cookies have been the pleasure that so many people have enjoyed marking the conclusion of the fasting period.
Modernized versions of these cookies, which were traditionally filled with date paste, may also contain pistachios and walnuts, depending on the preferences of the consumer.
Fried perfection; Loqma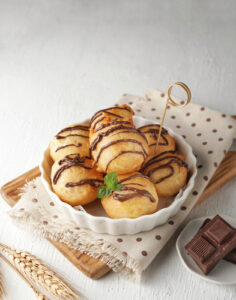 The earliest recipes for lokma, also called as "luqmat al-qadi," or "judge's morsels," can be found in Arabic manuscripts from the 13th century.
Since Lokma is so straightforward—fried dough—history books have included it throughout the ages and have never needed to go into detail to explain it. The treat first appeared in a variety of cultures around the world.
One of its forms, known as "peynir lokmas," is a type that is combined with cheese and is regarded as a specialty in the Aegean region.
If you are looking for a different dessert alternatives to bake in Ramadan; you can discover Mrs. Safa's recipes here; https://safinstantgulf.com/recipes/