Saf-instant, the beloved brand, is about to mark an incredible 50 years in the baking industry in 2023.
We're thrilled to announce the launch of an international baking competition to commemorate this significant milestone, and it's open not just to baking enthusiasts but also to all you wonderful housewives out there.
The Grand Prize: An Unforgettable Trip for Two to Paris
This competition is your chance to showcase your baking creativity and skills. And the grand prize?
It's nothing short of spectacular – a trip for two to the romantic and culinary haven of Paris.
Imagine strolling along the charming streets of the city of love with your loved one, and savoring exquisite cuisine.
But that's not all! Saf-instant has some exceptional rewards in store for those who qualify.
In addition to the dreamy Paris trip, each of the four finalists will have the chance to receive a €200 voucher, which can be used to treat yourself to something special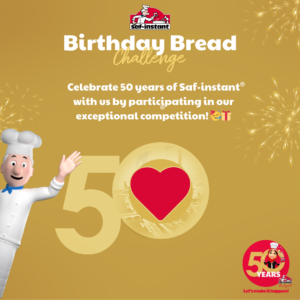 How to participate?
Entering this worldwide baking competition is straightforward. Just adhere to the following steps:
How to Make Your Masterpiece: Use your creativity to create a one-of-a-kind creation that celebrates the 50th anniversary and emphasizes the use of the Saf-instant product.
Take Pictures of Your Artwork: To highlight the details and attractiveness of your creation, take pictures from various perspectives.
Application Submission: Visit our competition website and follow the instructions to submit your images by filling out the registration form at this link: https://www.saf-instant-challenge.com/photo-contest-2/0/qPq1r/?language=en
These steps are designed to make your participation in the competition as smooth as possible, allowing you to showcase your talent and celebrate Saf-instant's 50th anniversary.
So, get ready to whip up some delightful creations and join us in celebrating five decades of Saf-instant's baking excellence.
The journey has started!
It's your time to shine in the kitchen and win fantastic prizes!