Besides water and date, the bread is also one of the most essential elements of Ramadan table. There are many various types of bread consumed in Ramadan period; each of them bearing striking similarities as well as differences. Despite differences within the region, bread lies at the very heart of every one of its culinary cultures.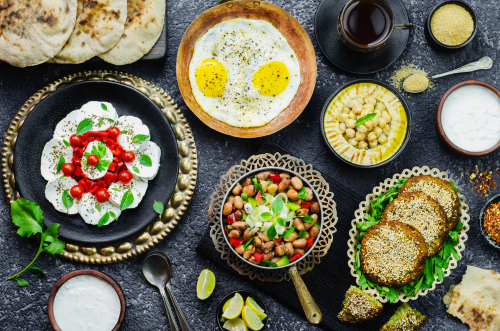 Ramadan Pita
Round and rather flat in form, and having a weave-like patterned crust. Ramazan Pita is traditionally made of wheat flour with yeast, and topped with sesame and seeds. It is traditionally served for the Iftar and Sahour meals during the sacred month of Ramadan.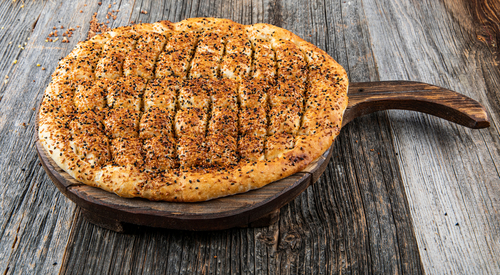 History
Ramadan pita dates back to Ottoman times, stories says that people used to wait in queues in front of bakeries to buy special pide breads, at the cost of eating Iftar meals late. Pide lovers used to bring their own fresh eggs, black cumin and sesame seeds to the bakeries and ask the baker to add the ingredients in front of their eyes.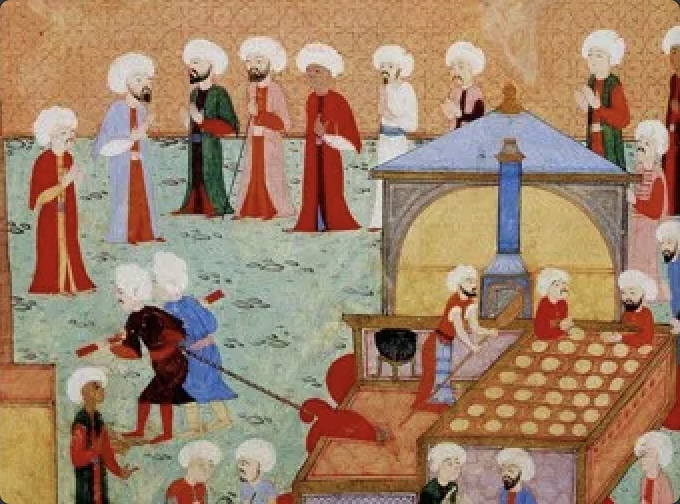 Read Mrs. Safa's Ramadan Pita recipe here > (link)
Shuraik
Shuraik is seasonal bread associated with Ramadan and Eid Al Fitr in the Muslim world.
It takes a lot of work to achieve the right texture, which is a bit chewy while still soft inside with very light crispiness on the outside. The circular dough with a hole in the middle should be a bit smoky and the sesame seeds generously sprinkled on it compliment its overall taste.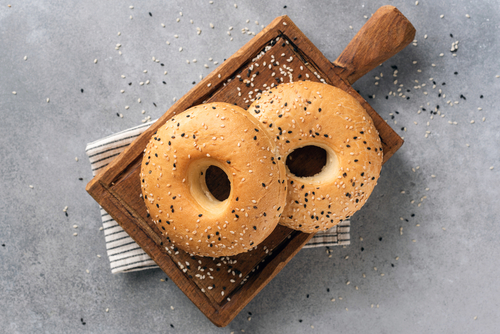 It is worth mentioning that shuraik, simit and bagels are all close cousins with very minor differences. Their textures are similar to each other as well as the shape and even the preparation process isn't that different.
History
Shuraik came to Hijaz area in Saudi Arabia's western region, and was embraced well in Madina. They named it suhairah, which is derived from the Arabic word, suhoor and it stands for the last meal of the evening during the Holy Month of Ramadan. Nowadays, the names Shuraik, Suhaira and Ka'ak refer to the same bread. with certain differences. While the name Suhaira also comes from Madina, it is slightly popular in Jeddah. Ka'ak and Shuraik are the most popular names in Makkah.
Rigag
One of the most well-known breads in the United Arab Emirates and wider Gulf region is the Rigag bread. Cooked on a special pan over high heat, this bread is often prepared for breakfast and often is incorporated into foods served during the Holy Month of Ramadan.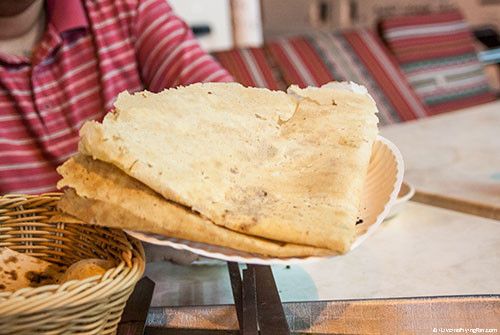 History
In the past, Rigag bread dunked in milk or yogurt could form an entire meal. For Ramadan iftar or suhoor meals, the bread is sometimes broken up and sprinkled into chicken or lamb stews.
Khameer Bread
Emirati Khameer Bread or Khamir Bread is one of the traditional breads from UAE, served for breakfast with cheese. This yeasted bread makes a wonderful dish to enjoy with a fresh hint of saffron and richness of other ingredients that are used.